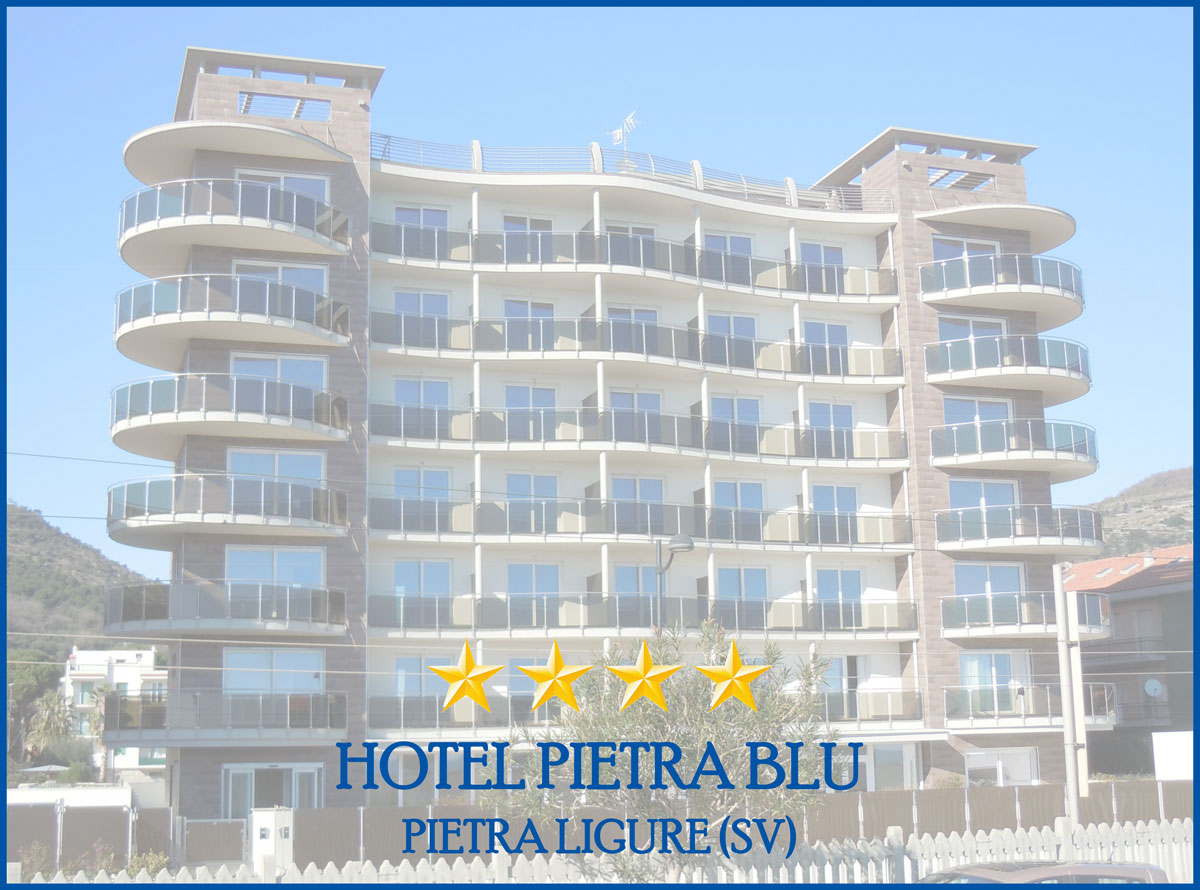 UNO DEI PIU' BELLI E MODERNI HOTEL DELLA RIVIERA LIGURE
L'Hotel Pietra Blu, situato a soli 50 m dal mare e circa 150 m dalla sua spiaggia privata, rappresenterà un punto di riferimento  di Pietra Ligure, unico albergo a 4 stelle della città.
L'Hotel è fornito di:
62 CAMERE DOPPIE
10 SUITES
5 APPARTAMENTI
Le camere e le suite sono dotate di balcone con parapetto in vetro oscurato per garantire luminosità alla stanza e al tempo stesso la completa privacy. 16 stanze rivolgono la vista alle colline e 56 verso il mare.
Ogni camera ha una superficie pari o maggiore di 17 mq, è climatizzata sia nella stagione invernale che in quella estiva ed è fornita di arredo, mini-bar, cassaforte, scrittoio e poltroncine.
Il bagno, posto all'ingresso delle camere, è dotato di ogni attrezzatura e doccia con doppio soffione.
L'Hotel è completamente arredato (ad eccezione della cucina del ristorante).
ONE OF THE MOST BEAUTIFUL AND MODERN HOTELS IN RIVIERA LIGURE
Hotel Pietra Blu is located 50 metres far from seaside and about 150 metres far from its private beach. It will be a landmark for the city of Pietra Ligure, where there aren't any other four-stars hotels.
It is provided with:
62 DOUBLE ROOMS
10 SUITES
5 APARTMENTS
Each room and suite is equipped with a balcony with a dark-glass parapet, which guarantees high lightness but even total privacy. There are 16 rooms with view on the hills and 56 rooms with view on the seaside.
Every room has got an area of 17 sm or a bigger one, provided with furniture, mini-bar, safe-box, writing desk and air conditioning system.
Each bathroom has any kind of equipment and a double shower.
The hotel is entirely furnished (except the restaurant kitchen).
I SERVIZI DELLA STRUTTURA
A piano terra:
– Reception
– Living-Hall
– Bar
– Sala Colazioni e Ristorante
– Sala Riunioni
– Piscina esterna di 90 mq con Spogliatoi e servizi
– Zona ristorante esterna con tavoli e ombrelloni.
Al primo piano:
– Area Fitness con Sala Attrezzi
– Area Wellness con Spa (sauna, bagno turco, cromoterapia, docce emozionali) con spogliatoi.
Al secondo piano:
– Area Relax esterna con giardino pensile.
All'ultimo piano:
– Vasca Idromassaggio
– Spogliatoi e servizi con docce
– Solarium
– Ampio spazio attrezzato per feste ed eventi.
All'esterno dell'edificio è presente un parcheggio con 22 posti auto coperti e un'area di sosta per i bus.
Al piano interrato si trova un parcheggio con 52 posti auto e 22 box privati ad uso dei clienti.
On the ground floor:
– Reception
– Lobby
– Bar
– Breakfast and Restaurant living room
– Meeting room
– Outside 90-mq Swimming Pool with Restroom
– Outside Restaurant area with tables and beach umbrellas.
On the first floor:
– Fitness Area equipped with exercisers
– Wellness Area with Spa (sauna, Turkish bath, chromo-therapy, emotional showers) with changing room.
On the second floor:
– Outside Relax Area with hanging garden.
On the last floor:
– Jacuzzi
– Restrooms with showers
– Sun loungers
– Wide equipped Space for musical entertainment or parties.
Furthermore, there is an outside parking, with 22 covered car parks and a pit-stop park reserved to buses.
On the underground there is a parking with 52 car parks and other 22 garages for private guests.